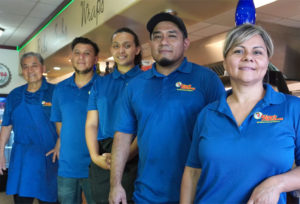 Why did the diner cross the road? To get to King's Chicken.
On a recent visit to Martinsburg, I had lunch plus take-out with my spouse and mother at King's Chicken. Upon lamenting the fact that I had not had good chicken in a while, it was my mother who said she had heard about, but had never tried, King's Chicken. Being an inordinately chatty trio, it is easy for us to prize the scoop out of the staff without actually interviewing anyone. Maria and Domenick Colandrea, of the popular King's New York Pizza chain in the area, opened King's Chicken in August 2012. King's Chicken is really Maria's project. "My husband and I were talking one day and thought that opening a chicken place was a good idea. There weren't any rotisserie chicken restaurants, so it's different. I didn't think twice. I just said, 'Yes,' and made it happen." Once she committed to the concept, she carefully planned the interior to fit the King's brand and developed a popular menu for chicken lovers.
To fully understand the commitment and success behind King's Chicken, one needs to look at the origins of the King's brand. Maria and Domenick met at a party in New Jersey 22 years ago. A year later, they cemented their love and embarked on an adventure acting on a friend's suggestion to go to West Virginia's Eastern Panhandle. The family opened the first King's Pizza in a cinderblock building by the post office in Kearneysville. They now have locations in Inwood, Martinsburg, the newest location in Kearneysville, and have opened and then sold a location in Shepherdstown.
So what's for lunch? My spouse ordered the white meat quarter chicken served with corn bread, garlic roasted potatoes, and green beans for the sides. We were delighted that the string beans were fresh, not frozen, and the uniformly cubed potatoes were pleasantly forktender and enhanced with garlic and parsley. My mother was so impressed with the dinner that she ordered one as take-out for her dinner.
For her lunch, my mother ordered the grilled chicken salad- -fresh crisp veggies and juicy grilled chicken. I can't tell you how many times I've ordered grilled chicken and the exterior was hard and overcooked while the center of the meat was dubiously warm--the result of a too hot grill. This chicken had a lovely grilled taste that was tender and properly cooked. Of course, the salad veggies were crisp, bright, and fresh.
When I think of a wrap, I think of something that is... delicate. The King's Chicken rotisserie chicken wrap resembled a mondo-burrito or a small Nerf football. It was huge and perfect for someone who is really hungry or split between two people with modest appetites. With cheese, lettuce, tomato, onions, banana peppers, and mayonnaise, it was dripping-juicy delicious. I was bold and didn't pick off the peppers--so glad I didn't. They added a welcomed crunch and zing.
I'm a big fan of rotisserie chicken. The fat runs off as the chicken slowly turns under the heat. Fresh off the rotisserie, it's warm and juicy and is worth the ninety minutes it takes to cook a chicken. Maria uses a light marinade to give the chicken a very mild flavor, nothing to over-power the rotisserie chicken taste, and she does not use additional oil, butter, or grease.
Sides are prepared fresh daily and include mashed potatoes, macaroni and cheese, corn, sweet potatoes, Yuca, plantains, coleslaw, and french fries.
Maria's chicken sauce deserves a paragraph of its own. Customers can dip the chicken in it, spread it on wraps, drizzle it on salads, or buy it by the container to take out. It's a creamy, pale green Peruvian-style sauce that has a kick similar to a horseradish cream. She isn't giving out her secret, but that's ok since she makes plenty of it.
It's not all chicken at King's Chicken, though. There are hot and cold subs, appetizers, desserts, and ribs. The baby back ribs can be ordered as a whole rack alone or as a three rib or six-rib dinner served with corn bread and two sides. Maria says the premium ribs are prepared in a painstaking three hour process in a special rib oven that leaves the ribs moist and succulent while lightly crisped and beautifully glazed on the outside.
In addition to the 36-seat restaurant, King's Chicken can do small group catering and does a bustling carryout business. Maria and her staff of five are friendly, and the atmosphere is casual. King's is crazy good chicken.